"How are you today?" is the opening sentence of ecologist Hal Caswell. While some of the members in the audience spontaneously reply, Caswell adds "this is not a simple question to answer when it comes to life and death."
On September 24th, ecologist Hal Caswell received the prestigious Distinguished Lorentz Fellowship Award. In a crowded conference room at NIAS, the opening words expressed by Arjen Doelman, director of the Lorentz Center Leiden, set the tone: "While political The Hague seems to believe the natural sciences, and humanities and social sciences should be separated, we are here to do the opposite." Both the Lorentz Center and NIAS stand for cutting-edge interdisciplinary research that moves beyond the rigid lines of contemporary academic disciplines. "Hal Caswell's research embodies that aim."
Before Louise Gunning, chair of the NIAS-Lorentz Advisory Council, officially handed over the award to professor Caswell, the audience is given a thought-provoking lecture on how to develop models to classify individuals by age and/or life cycle stage and calculate population dynamics based on rates of mortality, growth, development, and reproduction. The persuasive way in which Caswell engages his diverse group of listeners to think with him out loud, and even encourages them to participate in a lottery to better grasp the difference between individual chances and population statistics – turns the lecture into a true event.
The research project of Hal Caswell, that aims to develop a comprehensive framework for population health based on matrix population models, has clearly made a flying start with this festive ceremony.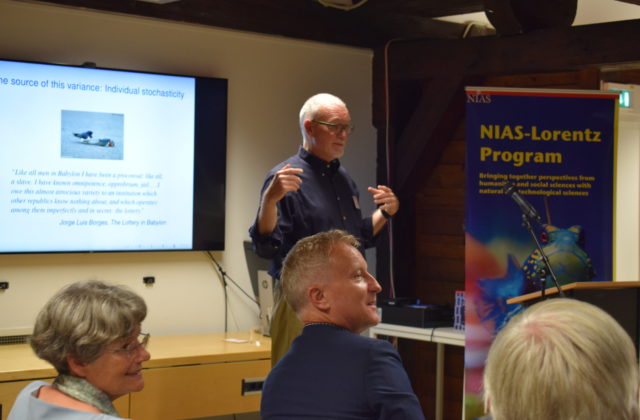 About Hal Caswell
Hal Caswell is Professor of Mathematical Demography and Ecology at the University of Amsterdam since 2013. He also holds research positions at the Woods Hole Oceanographic Institution (US), the Southern Denmark University and the Max Planck Institute for Demographic Research (Germany).
The Distinguished Lorentz Fellowship of 2019/20 entails a 10-months fellowship at the NIAS, an international workshop at the Lorentz Center and €10.000.