During a two-day event, artist-in-residence Masha Ru will explore the phenomenon of eating earth. The focus is on pimba, white kaolin clay from Suriname. The workshop is part of Masha Ru's project "Pimba. Closing the gap" which examines connections and interactions between cultural practices, science and policy through contemporary art practice and visual storytelling.
Eating of soil
The eating of soil and soil-like substances, called geophagy, is an ancient spiritual and healing practice which is an integral part of culture in several countries in Africa, Asia and Latin America. For example, in Suriname, Indonesia, Ghana and Nigeria clay snacks and tablets are sold as edible products on the market.
At the same time in Europe and the USA eating earth-based substances is officially regarded as a psychological disorder, known as pica – the consumption of non-nutritious items, including earth. Eating soil is discouraged, as it can contain elements hazardous for health, as shown in a study by the Dutch Food Authority (2013), which describes how edible clays were sampled on the Dutch market from 2004 until 2012 and further examined. The study focuses on 63 clays that were found on the Dutch market sold as edible products.
Despite the follow-up warnings of food authorities in both The Netherlands and Suriname, different communities still continue to engage with pimba, white kaolin clay from Suriname. At the same time, a number of popular brands available in health shops sell edible soil and clay officially meant for internal use.
Programme
Dr Sera Young (US), an Assistant Professor in the Department of Anthropology at Northwestern University in Chicago. She is the author of the book Craving Earth. Understanding Pica—the Urge to Eat Clay, Starch, Ice, and Chalk in which she examines historic, ethnographic and biomedical aspects of pica, describes its healthy and hazardous sides and reflects on the possible causes of pica. The book won the Margaret Mead Award. Sera Young's academic training includes medical anthropology (MA, University of Amsterdam). Sera Young will contribute to the event on both days by putting traditions connected to pimba into the general context of geophagy worldwide.
Bert Boekschoten (NL) is professor emeritus of geology, presently staff member at VU Amsterdam, Science Faculty. On the 21st of June at NIAS he will talk about different practices of eating Dutch earth in the Netherlands, along with his experience of earth tasting as a soil scientist.
Elihaika Minja (TZ) is a research officer at the Ifakara Health Institute, Tanzania, currently working with Dr. Ron Hoogenboom (NL) from the RIKILT institute in Wageningen. Elihaika Minja and Dr. Ron Hoogenboom will talk about the contaminants which can be present in clays for oral use and the question of food regulation.
Kwasi Koorndijk (SR/NL), known as brada Kwasi, is a language and cultural activist, a transformation anthropologist, and the founder of Kwasi's Saran consultancy . On the 21st and 22nd of June Kwasi will discuss the meaning of pimba in Afro-Surinamese culture and talk about his experience with consumption of clay.
Debra Solomon (US/NL) is an artist and the founder of the Urbania Hoeve Social Design Lab for Urban Agriculture, where topsoil is produced. On the 21st of June Debra will talk about her relationship with earth, touching upon the connection between soil and human health.
Riecelda Landveld (SR/NL/IE) studied at the National University of Ireland Maynooth, Department of Anthropology, with a thesis 'A Discussion on the Existence of Clay Eating as a Global Phenomenon'. She is the founder of the international facebook group 'Clay Worldwide'. During both days Riecelde will explore the possibility of breaking stigmas and taboos around earth eating, including pimba.
Prof. Dr. Victorine Pinas (NL/SR) is a scientist, currently affiliated with the Chemistry Department of the University of Leuven in Belgium and the Institute of Graduate studies and Research (IGSR) in Suriname. On the 22nd of June Victorine will talk about the health aspects connected to the oral use of pimba from the perspectives of chemistry and contemporary science.
Mandisa Mayne (UK) used to be a science teacher. Now she runs a successful business selling clays online nearly matching her previous salary after changing careers. On the 22nd of June Mandisa will share her story and her fascination about eating earth.
Ludo & Hedo (NL/UA/BG) is an unusual gelato shop indulging in a game of perception, surprise, curiosity, with the goal of breaking expectations and questioning habits. Together Ola Lanko from Ludo & Hedo and Masha Ru have created clay-based gelato flavours, which will be offered for your tasting during the event.
The workshop also includes the NIAS seminar by Masha Ru, (NL/RU), in which she discusses her most recent fieldwork in Suriname.
Moderators: Matthew Hoye and Masha Ru
Facebook event, day 1:
https://www.facebook.com/events/170692320268457/
Facebook event, day 2:
https://www.facebook.com/events/1804204773222809/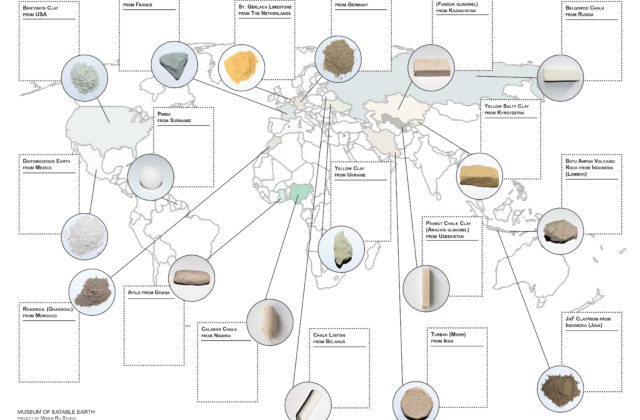 About the workshop
As Ru's research at NIAS is focused on the theoretical background of the phenomenon of geophagy, she will invite both members from the academic community (within and beyond NIAS) and members of soil-eating communities, especially based in Amsterdam Bijlmer to take part in this participatory two-day event. The workshop aims at creating a point of discussion and stimulate the exchange of ideas and interdisciplinary communication between art, science, tradition and food habits. The workshop will be followed by soil tasting (at one's own risk).
The first day of the workshop will take place at NIAS: 21st of June, 9.30-17.30
The second day is planned at OBA Bijlmerplein in Amsterdam Zuidoost: 22nd of June, 13:30-17:30.
The project Pimba. Closing the gap is funded by the Amsterdam Fund for the Arts (AFK), NIAS and the Society of Arts-KNAW.
Subscription for both days to: workshops@nias.knaw.nl