Migration, refugees, crisis. These have become words that are part of our contemporary European discourse. In the media, one can find divergent portrayals of migrants/refugees. Are they seen as migrants or refugees? Are they seen as intruders or people who need help? There are numerous divergent interpretations around the topic. At NIAS, a theme-group is investigating this issue with their project "Reading and Narrating the Refugee/Migration Crisis" composed by Dr Beatrix Futák-Campbell, Dr Roxane Farmanfarmaian and Dr Karin Fierke. NIAS talked with the theme-group coordinator about their research.
Just before the interview started, Dr Futák-Campbell was working on a forthcoming paper based on her research. Futák-Campbell explained that the research project is divided into three parts, in which each member of the team has their own sub-project. In her case, she is collecting data on the four different team-group's case studies: Lampedusa (April 2011), Hungary train penning (September 2015), Aylan Kurdi (September 2015),  Nice (July 2016). Futák-Campbell focuses on media coverages including text and images. She and her students at Leiden University are also looking at other images such as videos, cartoons, and graffiti. They explore the visualization of how the crisis has come to be portrayed.
Futák-Campbell expressed that when they were writing the project, "It was still very much palpable how much it was seen as a crisis. In our project, we put 'crisis' in parentheses as we are trying to look at the  four case studies, at least in my case studies, and determine in how much of it was a crisis, when it was framed as a crisis and when it was framed not a crisis."
In this migration narrative, Futák-Campbell sees a shift in the manner of reporting these events, for instance, in Germany, initially the reporting was very factual and limited information was given about who these persons were. However, in 2015, the reporting revolved around how these people were perceived and it became, not only complex but contradictory, for example, are they refugees or are they migrants, are they intruders or are they people who need help? In general, Futák-Campbell asserts that,
It was interesting how the media reflected on the events because every national media was portraying how responsive their own governments were and how they are doing whatever possible they could. However, these media outlets also critiqued the lack of or insufficient response from other countries in the EU and also from the EU itself. In a sense, everyone was bashing everyone else and the EU. There was a lot consensus around that.
At the moment, she is still analysing data, as there are abundant news and reports on these events.
Life at NIAS: New People, New Insights
Living in the Netherlands and being away from the responsibilities of the everyday work environment is for Futák-Campbell a fantastic opportunity. She comments that for her theme-group members it is also a great occasion as they moved here from the U.K. and can focus on the research. For Futák-Campbell, who works at Leiden University, the Netherlands, working in Amsterdam has its perks. She explained that although she has been in the Netherlands for two years, she did not have the time to explore Amsterdam, however, now that she has the time to work on her project at NIAS, she was able to meet other scholars in Amsterdam and discover the city. Futák-Campbell comments that "Since I've been here [NIAS] I meet other scholars in Amsterdam who I've known about but I would not necessarily have suggested to meet up. It gave me a lot of opportunities to meet up with people who are working on topics that I am interested in."
This exchange of ideas is not only limited to other scholars outside NIAS but also inside. For instance, in a previous interview with Fellow Frederik Swennen, life at NIAS was a great moment to exchange ideas with fellows who come from different disciplines. In the case of this theme-group, it has been a similar situation. Futák-Campbell articulates that,
When you are in such an interdisciplinary – multidisciplinary – environment you receive several questions that you did not expect because many of the fellows are from other disciplines. They are interested in different types of research, which result in different kinds of questions. It makes you think about your topic, it gives you that platform to be able to reach other researchers and prepare you for grant submissions that commonly judged by academics from other fields.
She mentioned that particular comments from EURIAS Fellow Cristóbal Págan Cánovas on  the quantification of the data set, from Fellow Preeti Chopra on the engagement with practitioners, and from Scholars-at-Risk Fellow Ali Alhassan on his perspective as a refugee from Syria and their position as scholars, were key aspects that were of substantial help as the theme-group had to think beyond their own discipline. As Futák-Campbell suggests, "It has pushed us to open up. Being at NIAS and these events changed our way of thinking. International Relations can often be such a mono-disciplinary subject. It was liberating to be at NIAS."
After NIAS: Books, Papers, Games
The theme-group has many plans for the future and they want to extend their research, as they are developing the idea of a 'migration game' and working on individual publications and projects. Recently Futák-Campbell has published her book "Practicing EU foreign policy", which means that she will be doing many book launches and book talks from January to May. She is also finishing her second book and, of course, after NIAS she will resume teaching at the Leiden University. If the theme-group has enough funding, they will take the game project to the next level. Not only Futák-Campbell but also the other members of the group are working very hard on the project's visibility and social impact. Time for this theme-group is precious, as they have numerous projects and ideas that revise a relevant contemporary socio-economical issue such as the refugee migration/crisis. Futák-Campbell concludes that "The time we spent here [at NIAS] has been invaluable as far as opening up our way of thinking,  how to go forward and prioritizing what could be more interesting. The implications of refugee/migration crisis are still widely felt in Europe. I hope that our research will contribute to making sense of it all."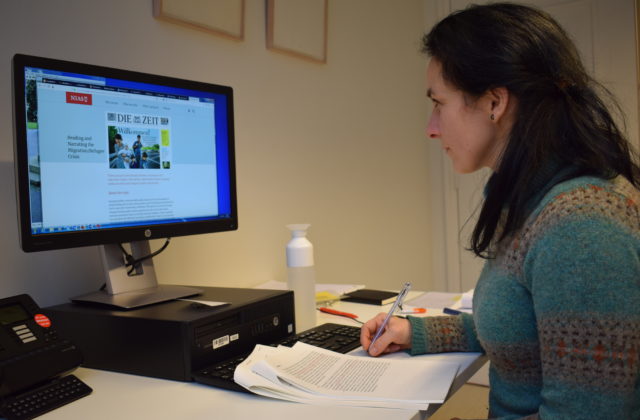 Header Image: The Road is Long by Aesthetics of Crisis 2016. All Creative Commons Image. https://www.flickr.com/photos/aestheticsofcrisis/27921202536/
Written by Sofía Murell