Archaeologist Corinne Hofman wins the Distinguished Lorentz Fellowship 2018/19 for research into the changing world of indigenous peoples as a result of colonialism.
Hofman is professor of Caribbean Archaeology at Leiden University. The fellowship set up by the Netherlands Institute for Advanced Study (NIAS-KNAW) and the Lorentz Center Leiden will allow her to carry out a comparative study into the impacts of colonial encounters on indigenous communities. To this end, she will look not only at the Amerindian peoples of the Caribbean, her own field of expertise, but also at indigenous communities in West Africa and the Pacific. Her research methodology situates itself at the interface of humanities, social sciences and natural sciences.
"The perspective of indigenous communities is still lacking in most history books," says Hofman. "Archaeological research is particularly suitable to offer completely new insights into the turbulent history of colonial encounters. It is important to supplement and correct the existing Eurocentric historiography. At the same time, I hope that this research can also contribute to contemporary debates on identity, intercultural contact and globalisation."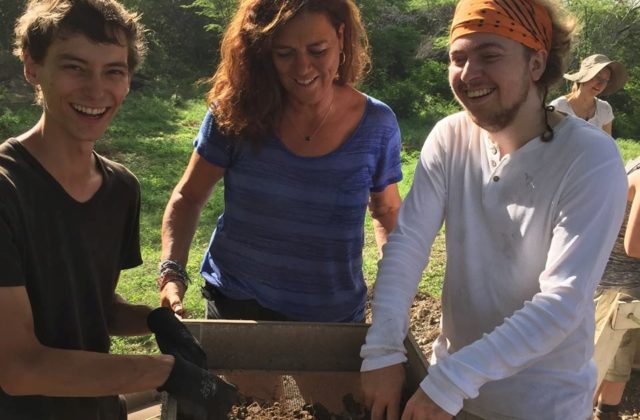 Versatile and vibrant
"Archaeology is the reconstruction of the past, it is a discipline that's as versatile and vibrant as can be," says Sijbolt Noorda, chairperson of the Advisory Council. "Archaeologists like Corinne Hofman know that this requires a multitude of well integrated scientific approaches. This is the only way to create a complete picture. That sounds simple and obvious, but it requires clear insight and smart cooperation. Professor Hofman has earned the fellowship on multiple fronts."
Corinne Hofman
Corinne Hofman is Professor of Caribbean Archaeology at Leiden University and has been Dean of the Faculty of Archaeology since 2013. She recently published The Caribbean before Columbus (Oxford University Press). In 2013 Hofman received the KNAW-Merian prize and in 2014 the Spinoza prize. She is currently working on a major exhibition about the Caribbean in the context of her prestigious NEXUS1492 project, an international and trans-disciplinary research project funded by the European Research Council. The exhibition will be on display on ten different islands in the Caribbean and the Netherlands in 2019.
Distinguished Lorentz Fellowship
The Distinguished Lorentz Fellowship (DLF) is awarded annually to a leading scientist working on research that brings together perspectives from the Humanities, Social Sciences, Natural Sciences, and Technological Sciences. It was set up by the Netherlands Institute for Advanced Study (NIAS-KNAW) and the Lorentz Center Leiden. The prize consists of a fellowship at the NIAS, an international workshop at the Lorentz Center and €10 000. The Fellowship is part of the NIAS-Lorentz Program, promoting cutting-edge interdisciplinary research. Previous DLF's include law and technology expert Bert-Jaap Koops, mathematical economist Cars Hommes, and musicologist Henkjan Honing.  On Tuesday 25 September 2018, the prize will be awarded by Sijbolt Noorda, chairperson of the NIAS-Lorentz Advisory Council.
Corinne Hofman (University Leiden)
Persbericht Hofman wint DLF (News release, in Dutch)